5 Min Read
9 Most Popular Uses for A Basement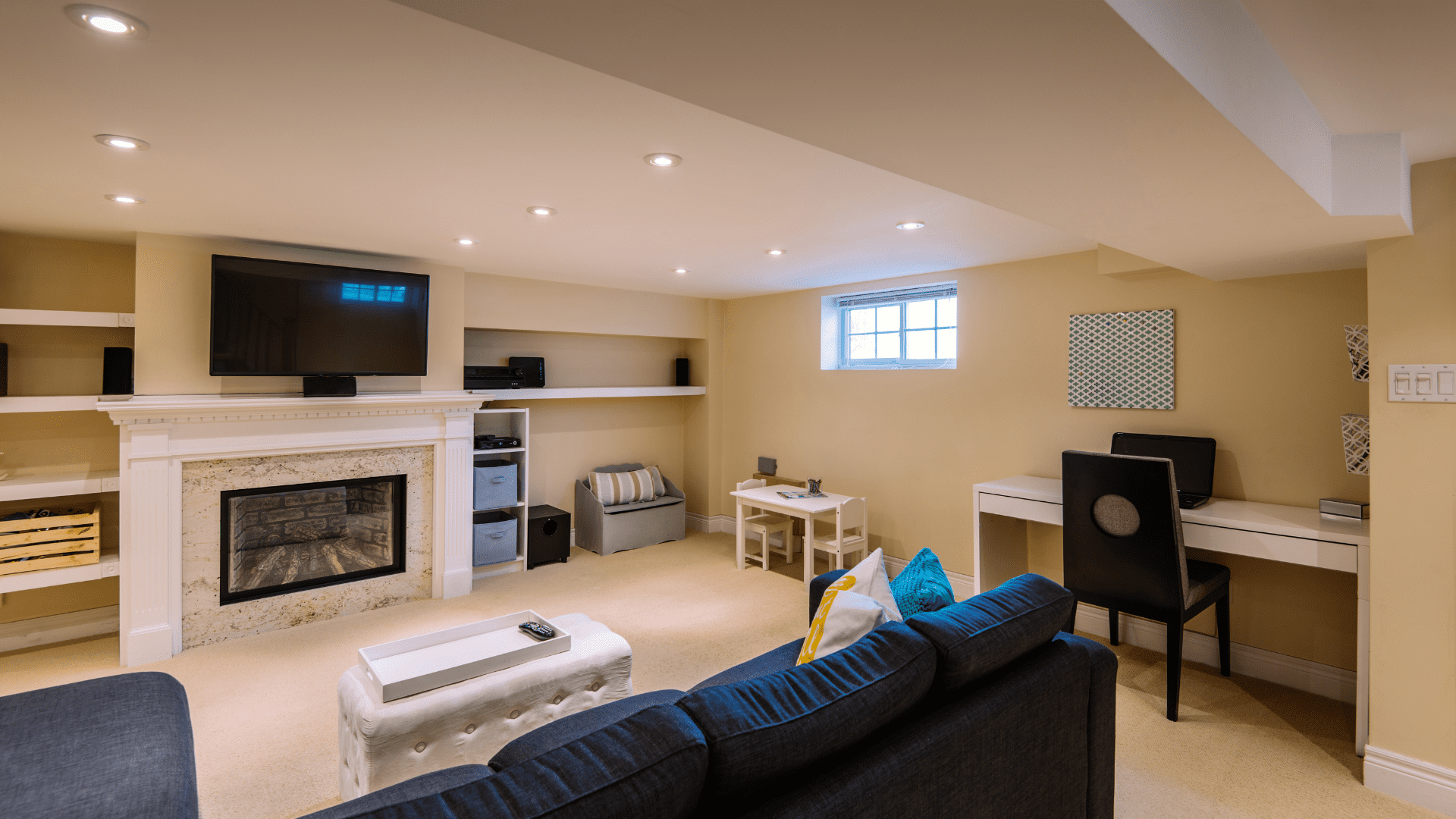 Gone are the days when basements were mere storage areas or neglected corners of the house. Your home's basement is a bonus living space ready to be tailored to your exact needs, with inspiration from the latest design trends. Whether you're looking for an entertainment hub, envisioning a peaceful wellness retreat, or want a handy, multi-functional living space, the basement is the ideal place to help you maximize every square inch of your home.

Check out these 9 creative and useful ways to make your basement the go-to spot for you and your family and save this list to stay inspired.
1. Casual Den Gathering Space
Sometimes you just need a space where you and your family can kick back, watch TV, do homework, or simply hang out. With a secondary living room or den in your basement, the main floor can focus more on formal entertaining. Instead, escape to the basement for relaxed gatherings and endless laughter. Consider additions like a cozy fireplace, a large sectional couch with a chaise and reclining chairs, and a wall-mounted flatscreen TV.
2. State-of-the-Art Home Theatre
With the abundance of excellent on-demand movies and TV shows, adding a well-crafted home theatre to a home's basement has become extremely popular. With advancements in media technology, you can bring the cinema right into your home and create your own immersive media viewing experience. Consider investing in a high-definition projector or a large flat-screen TV paired with a surround sound system to recreate that authentic movie theater atmosphere. Comfy recliners or a sectional sofa with built-in cup holders add a touch of luxury. Don't forget to incorporate proper lighting controls to set the mood and ensure an enjoyable viewing experience.
3. All-Encompassing Game Room
For those who love gaming or just enjoy some friendly competition, a game room is a wonderful addition to your basement remodel. Depending on your favorite pastimes, fill your basement with popular game room features like a pool table, foosball table, dart board, arcade games, ping pong table, or billiards table. If you enjoy video games, you can choose to also include a dedicated space complete with comfortable seating and gaming consoles or PCs. Customize the space to match your interests and hobbies, whether it's poker nights with friends or family game tournaments.
4. Home Bar Fit for a Mixologist or Wine Enthusiast
Transform your basement into a stylish and inviting bar or pub, and turn it into the perfect space to entertain and hang out with friends. Design a gorgeous kitchenette complete with a high-end marble bar counter, shelving for your favorite spirits, and comfortable seating for the ideal socializing space where you can entertain guests or unwind after a long day.
If you're more of a wine aficionado, converting your basement into a wine cellar is an excellent choice. Install climate control systems to maintain the perfect temperature and humidity for storing your wine collection. Include quality wine racks, a beautiful island countertop area for tasting, and ambient lighting to create an elegant and sophisticated space.
5. Personal Home Fitness Center
Sometimes weather conditions can limit our favorite outdoor activities—especially during the winter months. To help you stay fit and active, transform your basement into your dedicated fitness headquarters. Equip your basement gym with all the essentials you need, like a treadmill, stationary bike, rowing machine, elliptical, weightlifting bench, and free weights. For easy maintenance, consider flooring choices like cork and rubber mats to provide traction and shock absorption.
6. Home Spa Getaway
In the hustle and bustle of daily life, having a tranquil space to unwind and rejuvenate is invaluable. Transform your basement into a spa or relaxation area to create a serene retreat, without ever needing to leave home. Incorporate luxurious amenities like a sauna, steam room, and massage chair. Consider adding comfy lounge seating, soft lighting, and a quality sound system to play soothing music and enhance the ambiance. You could even incorporate elements of nature throughout with a lovely indoor waterfall feature. Don't forget to include storage for towels and other spa essentials.
7. Recording Studio Ready for Producing Music and Podcasts
With a soundproof music studio, you can escape into the world of melodies and your favorite instruments. Soundproofing the walls and ceiling will ensure that you can practice your instruments or record your own compositions without disturbing the rest of the household. Install professional-grade audio equipment, set up your instruments, and let the music flow freely in this sonic sanctuary.
If conversations and podcasts are more your thing, maybe you'd enjoy a quality podcast studio for producing your own shows, complete with soundproofing, high-quality microphones, and recording equipment. Create a comfortable seating area or a standing desk where you and your guests can engage in lively discussions and interviews. Incorporate acoustic treatments to ensure crystal-clear audio and edit your episodes with ease in a dedicated podcast editing station. With a podcast studio in your basement, you can share your thoughts, ideas, and stories with the world while enjoying a quiet and controlled environment for recording. Let your voice be heard and turn your basement into a hub for captivating conversations and engaging content.
8. Photography Studio
Turn your basement into a professional photography studio where you can both capture stunning imagery and edit the work from the field. Install backdrop systems, lighting equipment, and a dedicated editing station to bring out the best in your photographs. Utilize the space to experiment with different lighting techniques, props, and colors, transforming your basement into a realm of visual storytelling—for personal enjoyment or even your side hustle.
9. Functional Guest Suite to Boost Your Market Value
Adding a cozy and welcoming guest suite to your basement space adds a ton of additional value to your home. Consider how you can create a comfortable bedroom with ample storage space and luxurious private bathroom. Try incorporating design elements that evoke a warm and inviting atmosphere, such as soft bedding and plush carpets. Adding a small kitchenette or a mini-fridge can also provide convenience for your guests.
Another popular option for maximizing the functionality of your basement is to create a separate apartment that can be rented out. For complete privacy for potential tenants, the apartment can have its own entrance, kitchen, bathroom, and living area. With the increasing demand for rental properties, renting out a basement apartment can provide a steady stream of income and help offset mortgage costs.
This option can be an attractive investment opportunity for homeowners looking to make the most of their basement space while meeting the housing needs of the community. However, it's important to consult with local authorities and understand any legal requirements and permits necessary for renting out a separate living space in your area.
Make the Most of Your Home with an Experienced Design-Build Team
Investing in a well-designed finished basement is a win-win situation. Not only does it offer a considerable return on investment should you eventually decide to sell, but it also provides immense value and enjoyment for you and your family. It enhances your daily lifestyle and maximizes your use of the space, allowing you to make the most of your property.
Don't let your basement's potential go untapped by letting it sit empty or disused. Looking to remodel and revitalize your home? True Craft Remodelers is here to make it happen for your Central Illinois home. With 30 years of proven experience, our team can guide you through the entire remodeling process—from finalizing costs for your new kitchen or bathroom to executing the perfect design.
Whether you envision a cozy home theater, a stylish home bar, or a tranquil wellness retreat, we've got the skills and expertise to help you bring your vision to life. Contact us today and let's work together to turn your home into the envy of the neighborhood.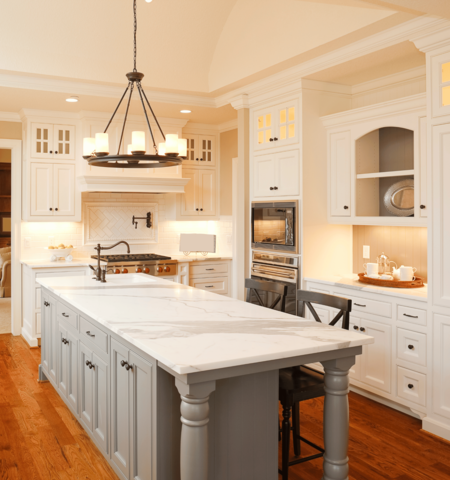 Ready to Remodel?
Contact Us!
Let's get started on your Central Illinois remodel today.