3 Min Read
How Much Does a Kitchen Remodel Cost in Central Illinois?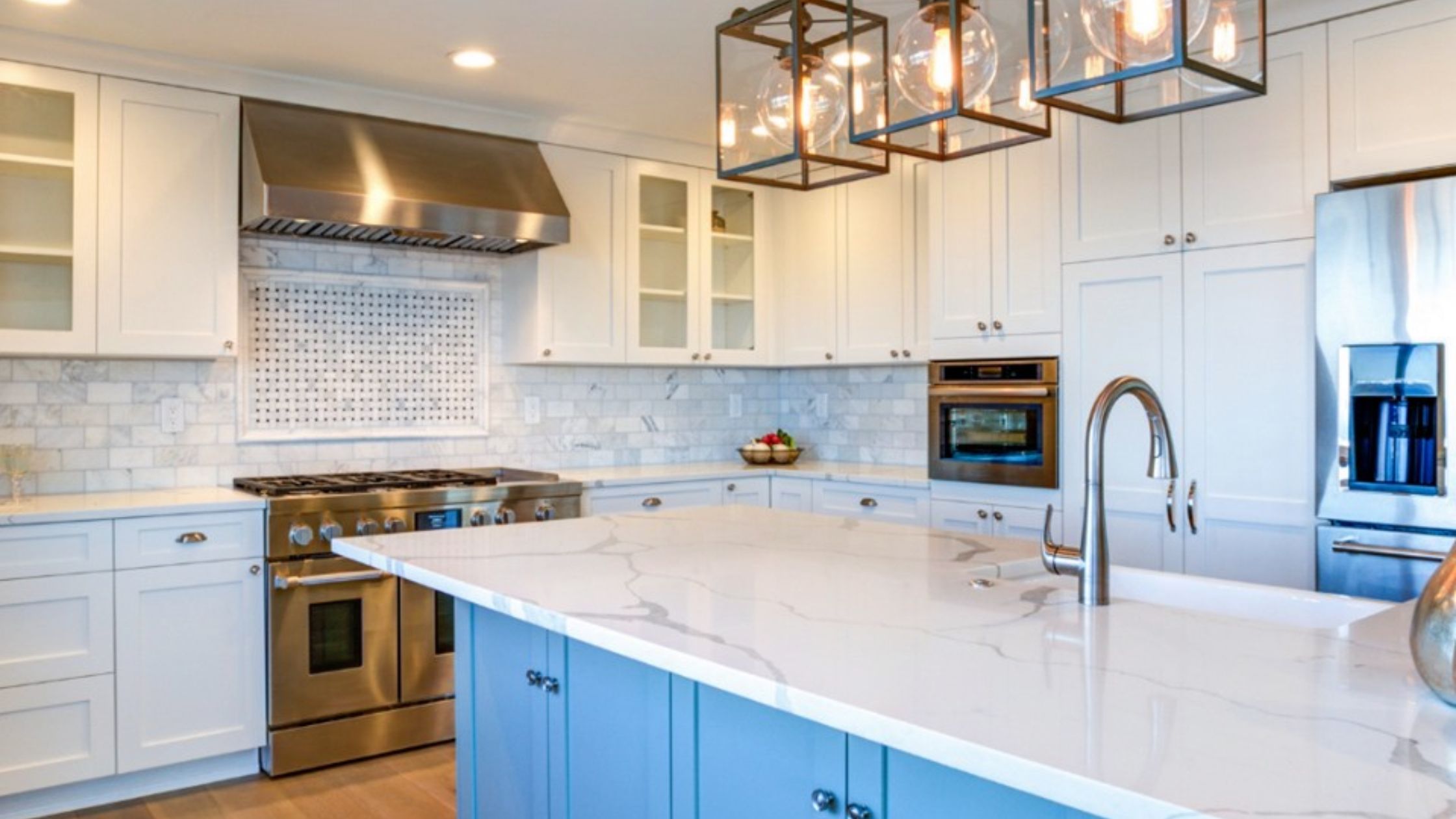 You know you want to remodel your kitchen. But before you can fully commit, there's one massive question you need the answer to:
What does kitchen remodeling in Illinois cost?
As a remodeler in IL with over 30 years of experience, True Craft Remodelers has the answer. In this blog, we're sharing our advice on your frequently asked cost questions. Let's get into it!
What Is the Average Cost of a Kitchen Remodel in Illinois?
The average cost of kitchen remodeling in IL ranges from $45,000 to $100,000, depending on the upgrades included in your project.
This estimate is based on our experience working in areas of Central Illinois such as Decatur and Springfield. We focus on Central Illinois, as opposed to the entire state, because remodeling costs are much higher in the Chicago area, thus, inflating cost estimates for all of Illinois. A smaller area of inquiry gives us more accurate average prices.
Kitchen Costs by Scale
Project price is highly dependent upon the scale of your remodel. If you only want minor cosmetic changes, you'll pay a lot less than someone who wants to redo their whole kitchen from head to toe.
Review these three different kitchen project tiers and associated prices to better understand what your remodel will cost.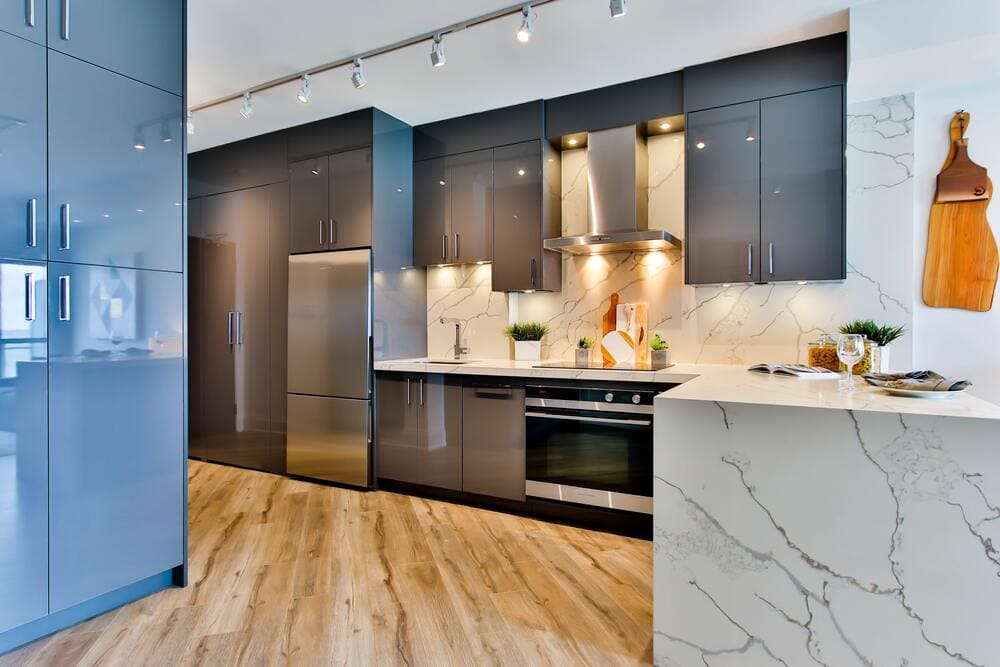 Standard Kitchen Remodeling
$20K - $35K+
A standard remodel refreshes the kitchen but doesn't include significant changes. Your kitchen layout stays the same, meaning you can't move around your cabinets or appliances. You get several upgrades, including new stock cabinetry, granite countertops with a four-inch backsplash, and updated lighting and plumbing fixtures.
Mid-Range Kitchen Remodeling
$30K - $45K+
If you want a little more freedom to change up your kitchen, a mid-range remodel might be right for you. In this tier, you can alter your kitchen layout within your current footprint, meaning you change the location of your appliances, but you can't expand your kitchen or knock down walls. You get upgraded semi-custom cabinets, better plumbing fixtures, new flooring, and a ceramic tile backsplash. Under cabinet lighting adds more oomph to the design as the lights glitter off your new granite or quartz countertops.
Major Kitchen Remodeling
$40K - $65K+
Major kitchen remodeling gives you almost unlimited options. You can remove walls, expand, and change your kitchen layout however you want. The increased price tag comes with fully custom cabinets in IL (think Mouser Cabinetry), a natural stone backsplash, exotic granite or quartz countertops, and new flooring in your kitchen and the surrounding rooms. This tier also comes with a brand-new lighting plan and fancy plumbing fixtures.
How Much Does a Nice New Kitchen Cost?
Any tier of remodeling will be nice, but if you want a truly spectacular kitchen that will make you the envy of the neighborhood, you need to invest in high-end remodeling.
High-end remodeling starts at around $65K, but it's not uncommon for these projects to cost $100K or more. Upscale remodeling gives you the power to do anything you want in your kitchen. You can raise the ceilings to create the feeling of more space, add extra windows to let in natural light, install an island (or two), spring for heated flooring, build a walk-in pantry, invest in the best appliances around, and so much more.
How Much Should I Budget for a Kitchen?
Before deciding on a budget, you should compare your kitchen remodeling costs to the value of your home. Otherwise, you could end up over-improving and making your home more expensive than others in the neighborhood, resulting in difficulty selling down the line.
The Washington Post recommends spending around five to 15% of your home value on a kitchen remodel.
Keep in mind that what you paid for your home isn't necessarily the value of your home. For example, say you live in a 50-year-old, 1,400-square-foot house. You purchased the home five years ago for $60,000. The five to 15% metric means your kitchen remodel should cost between $3,000 and $9,000; that's not enough money to make the changes you want because you're not looking at the value of your home in today's market.
In this economy, building a house costs about $200 per square foot; so your home value today is around $280,000. Take five to 15% of $280,000, and you get $14,000 to $42,000 — plenty of money to get your desired kitchen results.
Bottom Line: Get a Kitchen Remodeling Quote
All that math can get a little confusing. Ultimately, the best way to understand your kitchen remodeling costs is to seek estimates from a local remodeler.
Contact True Craft Remodelers for a no-obligation 15-minute phone consultation. Tell us about your kitchen dreams, and we'll give you a quote on what it'll cost to make them happen. We're happy to answer any questions you have because we love empowering our clients with information — almost as much as we love creating stunning kitchens!