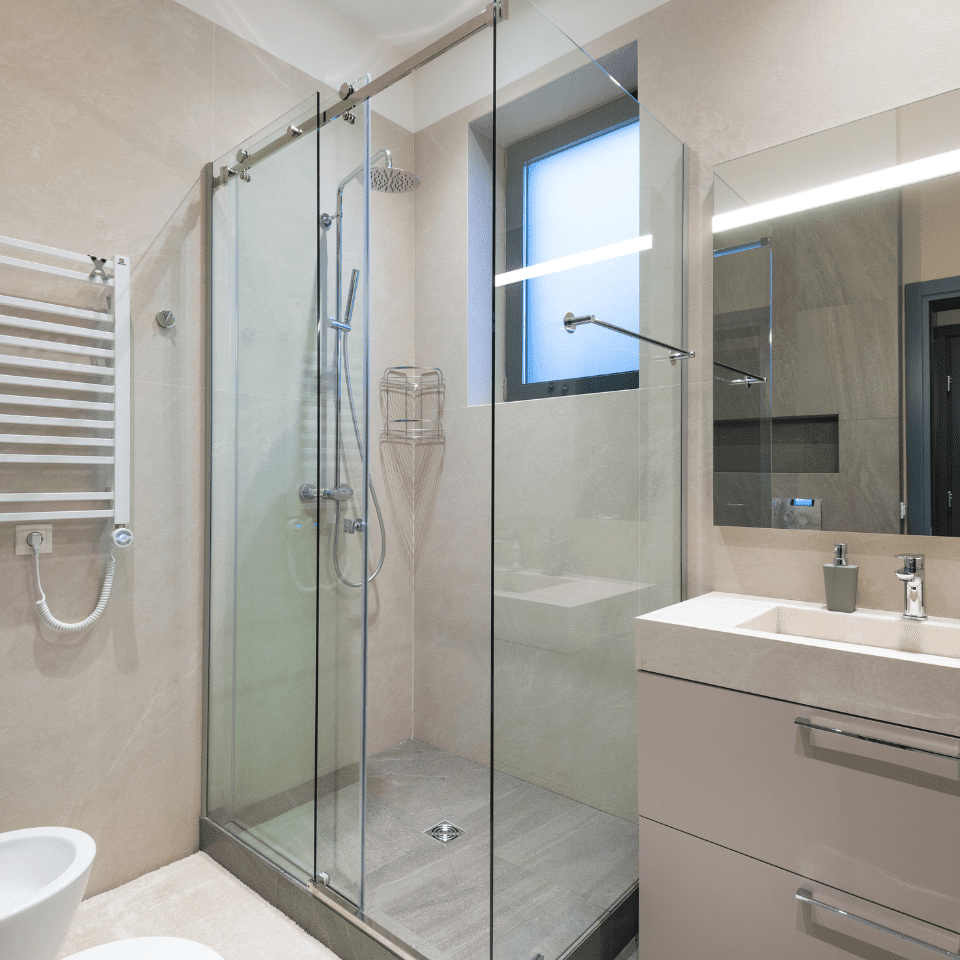 BRING YOUR Bathroom TO LIFE WITH A CUSTOM REMODEL
Your bathrooms are some of the hardest working rooms in the house. So, when your bathroom just isn't working for you anymore — due to a poorly planned layout, worn finishes, or old features — a remodel is the next step to improve your everyday life. Begin and end your day in a space that's stylish, functional, and rejuvenating.
True Craft Remodelers specializes in bathroom remodels that will suit your needs and check off your wish list, delivering a brand new expertly-designed and crafted space. Replace every finish and upgrade your home's bathrooms with features that offer convenience and comfort.
When you work with True Craft Remodelers to design and rebuild your bathroom, you will work with a skilled full-service team that operates as a single source to offer a process that's seamless and well-planned, through excellent communication and collaboration. Working with a professional design-build team puts your dream bathroom within reach.
What could you expect from your bathroom remodel? Designer plumbing fixtures, a custom vanity, new flooring, expanded square footage, a new walk-in shower, a beautiful new color palette, custom lighting, and more. Indulge in features like in-floor radiant heating, a spa-like steam shower, gleaming marble tile, and solid wood custom cabinetry.
Our most popular upgrades available for your bathroom remodel:
select_check_box
New plumbing fixtures
select_check_box
New vanity
select_check_box
Fresh paint
select_check_box
New floors
select_check_box
New fixtures
select_check_box
New shower
Frequently Asked Questions About Bathroom Remodeling
What Questions Should I Ask Myself Before a Bathroom Remodel?

expand_more

What is your primary reason for wanting to remodel? To freshen up the look, or something more extensive due to wear and tear or damage?

Are there plumbing issues, like leaks, poor drainage, shower door, or toilet leaks every time they're used?

What is the biggest issue with your current bathroom?

Who will be using the bathroom? Is it a main hall bath for the whole family and guests, the kids' bathroom, or the primary suite bathroom?

How much is the budget for the project?

What Questions Should I Ask My Builder Before a Bathroom Remodel?

expand_more

Do you use trade partners, like a licensed plumber & electrician?

Will you stay on the job from start until finish?

How long will a bathroom remodel take?

How much does a bathroom remodel cost?

What Do I Need to Know Before I Remodel My Bathroom?

expand_more

As with any remodel, it can be a major inconvenience or disruption to your daily routine. Especially if this is the only bathroom in the house. If the disruption causes a lot of stress for you and your family, arranging temporary lodging might be best.

How Much Does a Bathroom Remodel Cost in Illinois?

expand_more

The cost of your project can change based on location. Generally, you should expect to pay somewhere between $15,000 and $45,000 or more, whether you're planning a bathroom remodel in Springfield, IL or a bathroom remodel in Decatur, IL.

Keep in mind that this range is based on our prices at True Craft Remodelers.

Bath Remodel (Midrange): the average cost is about $24,500 and you can expect to recoup about 60% of the cost.

Bath Remodel (Universal Design): the average cost is about $39,000 and you can expect to recoup about 57% of the cost.

Bath Remodel (Upscale): the average cost is about $75,700 and you can expect to recoup about 55% of the cost.

Bathroom Addition (Midrange): the average cost is about $103,600 and you can expect to recoup about 53% of the cost.

What is Included in a Bathroom Remodel?

expand_more

Every bathroom is different, but here is an example of the most common:

Small bathroom remodels are smaller than 5 ft X 8 ft and typically cost about $17,000 to $25,000. Half-baths and powder rooms also fall under small bathrooms. Here's what we provide in these renovations:

Keep existing tub
Luxury vinyl plank flooring
The Onyx Collection shower walls
Contractor-grade plumbing fixtures
Contractor grade vanity & top
Curved shower curtain rod
Electrical changes not included
Fixtures remain in the same locations
Builder-grade bath fan /exhaust
New vanity light and mirror

Medium bathroom remodels are about 5 ft X 8 ft to 5ft x 10ft; still smaller than your master bathroom. These remodels range from $25,000 to $40,000 Guest bathrooms, hallway bathrooms and second-bedroom bathrooms fall under medium bathrooms. Here's what we provide in these renovations:

Replace tub with fiberglass insert or tub & solid surface walls
Porcelain tile floor
Mid-grade plumbing fixtures
Mid-grade vanity & tops usually
Prefab shower door kit
Fixtures remain in the same locations
New bath fan /exhaust
New vanity light and mirror

Large bathroom remodels usually mean your master bathroom. These bathrooms range greatly in size. Typically, you can get this type of bathroom remodeled at around $40,000 or more. Here's what we usually provide in these renovations:

Remove the tub & replace it with a tile base shower
Porcelain or natural stone tile floor & shower walls
Custom plumbing fixtures
Custom vanity cabinetry & top
Electrical changes/updates
Custom shower doors
Fixtures may be moved

How Long Does a Bathroom Remodel Take in Illinois?

expand_more

We have a full blog post on this! Click here. Shorter answer, most of our bathrooms, depending on the scope of work and size of the bathroom, take 5 to 10 days, with larger bathrooms, like a master bath, taking up to a month.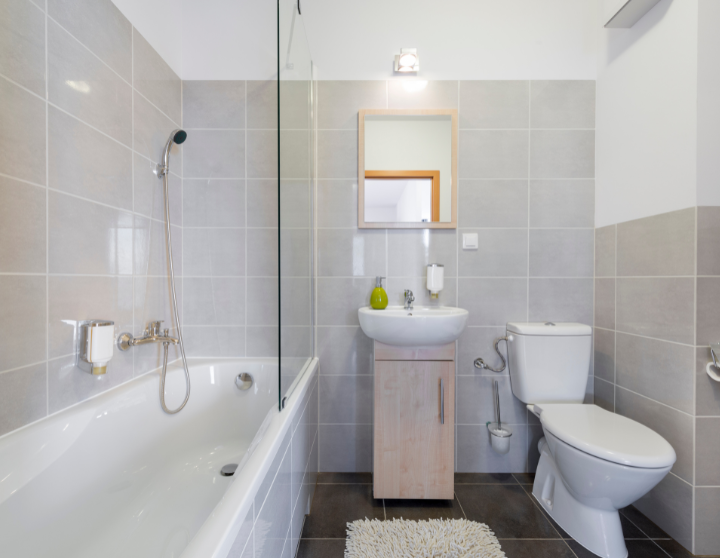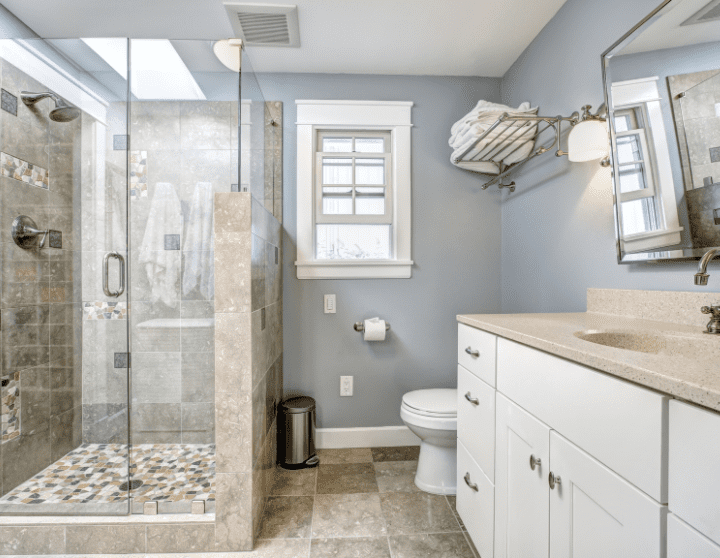 Realize Your Bathroom's Potential with True Craft Remodelers
Every bathroom has potential, even if it's difficult to see at first. At True Craft Remodelers, our job is to help you envision the possibilities. Watch your outdated bathroom fade away as our expert team partners with you to bring your dream space into reality. Don't spend another day in your dated bathroom. Get started with True Craft Remodelers now by scheduling a consultation.
Want to learn more about our process and get insider information about remodeling? Read our educational blog and visit our FAQ page to be in the know!
We begin with an in-home consultation to learn about your remodeling goals and decide if True Craft Remodelers is a good fit for your project. We'll take measurements and photograph your home while we collaborate with you on how to solve your home's challenges in the design style you'd like
Next, we will use a modeling program to create your remodel design. Your proposed project investment and timeline will be known at this time, as well as making sure you're aware of the process so there are no surprises. You'll choose the materials, colors, and finishes for your remodel, followed by agreeing on a payment schedule.
Finally, your remodel will begin the construction phase! You'll be involved through on-site meetings and be kept in the loop about progress to ensure your remodel is going according to plan. We understand that a remodel can be stressful, but it doesn't have to be. Once your project is complete, we'll do a final walk-through to ensure you're satisfied with our work. True Craft is unique in that we offer a three-year warranty and will fix anything necessary, no questions asked.
What Our Clients Think

"After working with TrueCraft, I've found the contractor that I want to work with for my personal construction and remodeling projects."
What Our Clients Think

"We are extremely pleased with the remodeling work Scott and his team at TrueCraft performed at our home. They were very professional and reliable, and always accommodating with our requests."
What Our Clients Think

"Everything went smoothly, and both Scott and Chris were easy to work with, conscientious, and responsive. Highly recommend!!"