4 Min Read
How Long Does a Bathroom Remodel Take in 2023?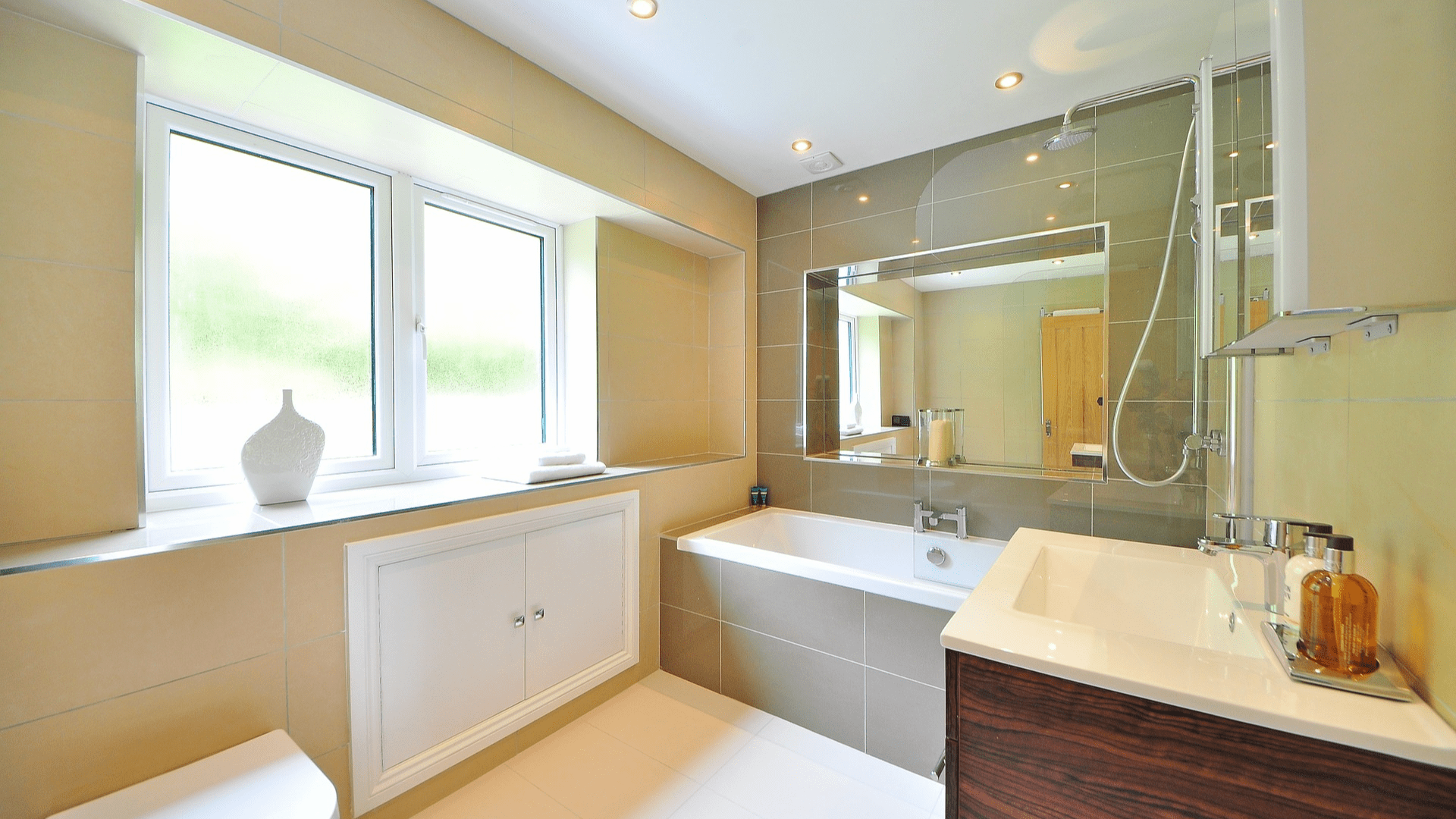 A dated, dark, or cramped bathroom is no place to spend the first and last moments of every day. Once you've decided that it's time for a remodel, you're probably wondering how long you'll have to go without your bathroom and how much it may cost to get the remodel you desperately need. We're going to break down the entire bathroom remodeling process so you'll know exactly what to expect.
How Long Does a Bathroom Remodel Take?
Bathroom remodels vary quite a lot, even across different bathrooms in your own home. This probably isn't a surprise when you look at the difference between your half bath in the hallway and your much larger primary bathroom.

Your bathroom remodel timeline will also depend on how complex your remodel is and how much labor will be required to transform it–otherwise known as the scope of work. Expanding your bathroom's footprint or changing its layout will take longer than removing and replacing the finishes and fixtures.
Research & Interviews (2 to 3 Months)
The process of researching different home remodelers, from scrolling through their online portfolios to scheduling interviews, is part of the remodeling process that's completely in your hands. However, two to three months is generally how long many homeowners will spend deciding which remodeler is the best fit for the project. You'll spend this time reading reviews, collecting design ideas, and consulting with a few remodelers before you make your decision.
Design Consultation, In-Home Assessment, & Design (1 to 2 Months)
Now that you've chosen your remodeler, you'll meet to speak more in depth about your design goals. They will take measurements and document your space, and you'll discuss remodeling goals in further detail. Your designer will help you come up with workable options to get the bathroom you envision within your budget.

With magazine clippings and online design boards in hand, you will collaborate on finishes and features that suit your design tastes. Your designer will guide you through the product selection process. If you're working with a design-build team, you will also have access to accurate industry pricing for both materials and labor to ensure your project remains on budget throughout the design phase. Once your design is complete and everything meets your expectations and wishes, you'll sign off on the design.
Product Ordering (Up to 2 Months)
After you've signed your contract, all of your materials can be ordered. Every finish, from the flooring to the light fixtures, will arrive and be properly inspected. If you've chosen custom tile or custom solid wood cabinets, you'll reach the longer end of the time frame. In-stock and readymade materials will come in in a shorter period of time.
Bathroom Demolition (1 to 2 Weeks)
Smaller bathrooms will take a shorter period of time to be demolished than larger, more complex bathrooms. Also, some materials, like certain types of flooring, can take a lot longer than other materials to be removed.
Construction (2 to 4 Weeks)
If expanding your bathroom's footprint or changing your layout is in your remodeling design, your bathroom timeline will take longer than if you are only requiring removing finishes and fixtures and replacing them exactly where the original materials were. If your bathroom remodel also includes expanding your home's square footage, this timeline can be exceeded.
Install Electrical & Plumbing (3 to 5 Days)
After all of the materials are removed and the framing is in place, your team can install electrical and plumbing rough-ins.
Drywall, Insulation, & Paint (1 to 2 Weeks)
Drywall and insulation can now be installed. If your bathroom remodel did not include structural or layout changes, you may be able to move right onto repairing where fixtures or finishes were removed and applying your chosen paint color.
Flooring Installation (3 to 5 Days)
How long flooring will take to be installed will depend on the type of flooring you've chosen for your bathroom remodel design. Large format marble tiles will take less time to install than small custom tile designs, for example.
Shower, Toilet, and Tub (3 to 5 days)
Your walk-in shower enclosure, new freestanding tub, and toilet can now be installed. If your bathroom is a half bathroom with only a sink and a toilet, or a full bathroom with a shower bathtub combo, this could take less time.
Cabinetry (1 to 2 days)
The complexity of your cabinets will determine how long this could take. A simple single vanity for a smaller bathroom will take less time than a complex double vanity with counter-to-ceiling cabinets and lots of trim.
Bathroom Vanity Top (3 days to 2 weeks)
Your bathroom vanity may be a small quartz slab that's pre-measured to fit a single-basin vanity or it may need to be custom fit to your double-vanity design. A more exacting design will require a precise measurement after the cabinets are installed in order to precisely cut your vanity top.
Plumbing Fixtures, Lighting, & Hardware (1 day)
Everything is in its place and now it's time for the finishing touches! Your bathroom is ready for all of the little details that will complete your brand new bathroom.
Cleaning, Punch List, & Final Touches (1 Week)
Your bathroom will be cleaned from top to bottom and ready for you to inspect. You and your project manager will look for any scuffs or damages that the crew may have missed and these will be added to the punch list. Your team will make all of the final touch-ups and your bathroom will be complete!
Save Time by Hiring an Honest Design-Build Firm
Going without your bathroom for any period of time can be a little frustrating, so it's important to hire a design-build firm that can give you an accurate and honest timeline for your bathroom remodel. True Craft Remodelers is a Central Illinois remodeler that knows how important getting straightforward and transparent communication is to any homeowner. By working with a design-build firm that's built on trust and respect, you know your remodel is in the best hands. Contact True Craft Remodelers to schedule a consultation and learn more about your bathroom remodel experience.