3 Min Read
10 Bathroom Remodeling Trends for Illinois in 2023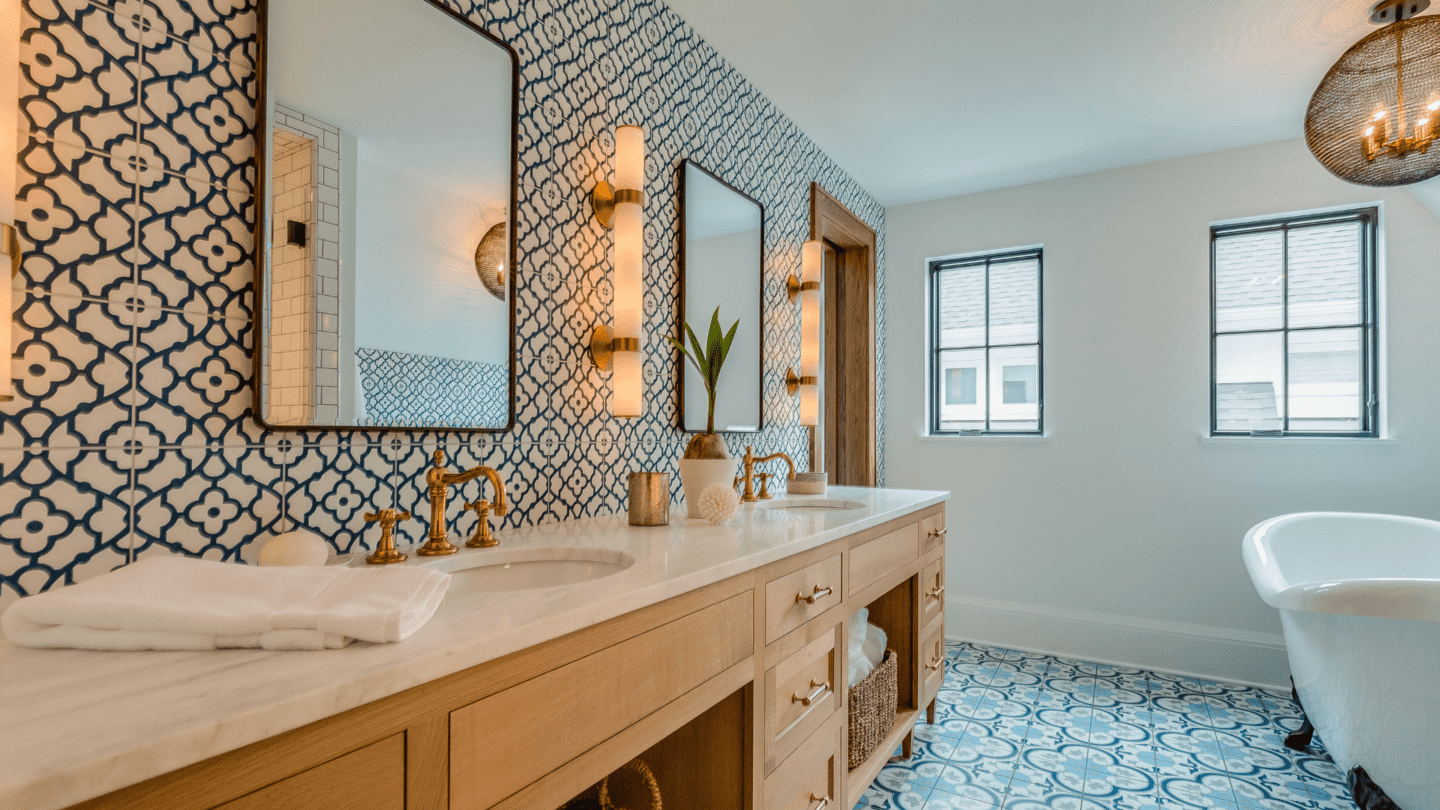 With the right designs and features, your bathroom remodel can transform your space into a serene oasis to unwind after a long day, a vibrant reflection of your personal style, or a refreshing haven to start your day off on the right foot. From innovative features to the latest colors and materials, elevate your Central Illinois bathroom remodel with the latest design trends in 2023.
1. Bringing the Outdoors In
One trend that's been growing in popularity this year is looking for inspiration from the natural world. Organic materials—like stone, wood, and marble—can give your bathroom a warm and inviting feel, and they're also more eco-friendly than synthetic materials.

Luxurious and Earth-inspired features like walk-in showers with a waterfall-style showerhead mimic the gentle yet powerful force of a waterfall, while also helping to increase water pressure and conserve water.
2. Bold, Rich Colors
Another trend that's making waves in bathroom design is the use of bold colors. Gone are the days of plain white bathrooms—in 2023, homeowners are opting for eye-catching hues like deep blues, emerald greens, and rich purples. These jewel-toned color schemes can add a touch of drama and sophistication to your space. Brass hardware is also making a big comeback and often pairs perfectly with these colors.
3. Tile Walls
Tile walls are set to be a major design trend in 2023. Tiles offer a wide range of color and pattern options, which allows for endless creative possibilities in your bathroom remodel. Whether you opt for a simple and elegant subway tile design, a bold and eclectic mosaic pattern, or a sleek and modern geometric design, tile walls can add texture, depth, and personality to your space. Not only are tiles aesthetically pleasing, but they are also practical and easy to clean, making them a great choice for any bathroom.
4. Statement Lighting
Lighting plays a crucial role in bathroom design and can help set the mood for relaxation. In 2023, homeowners are incorporating decorative lighting fixtures like chandeliers, pendant lights, and sconces to create a stunning focal point in their bathrooms. You can use statement lighting to highlight a particular area or feature in your bathroom or to add a touch of glamour and sophistication while maintaining the room's functionality.
5. Statement Mirrors
Mirrors are an essential part of any bathroom design. Statement mirrors with unique shapes, frames, or finishes can add a touch of elegance and sophistication to your bathroom. From oversized mirrors to backlit mirrors, to decorative gold or brass mirrors, there are many options that can express your personal style and flow well with the rest of your designs.
6. Freestanding Tubs
Freestanding tubs have become a popular choice in the latest bathroom designs—particularly in the primary suite bath. These tubs come in a variety of shapes and styles, from eclectic clawfoot tubs to geometric and modern square tubs. They can be a statement piece or focal point in your bathroom and are perfect for creating a relaxing and luxurious bathroom experience.
7. Smart Tech Features
Technology is making its way into every corner of our homes, and the bathroom is no exception. From smart toilets to high-tech showers, there are plenty of tech-savvy features you can incorporate into your bathroom remodel. Some of the most popular include voice-activated lighting, heated floors, and motion-activated faucets.
8. Sustainable Design
Sustainability is a growing concern for many homeowners and for the real estate market in general. The use of sustainable materials, energy-efficient fixtures, and water-saving features will become increasingly popular in 2023 bathroom design. For your bathroom upgrade, consider incorporating features like low-flow toilets, LED lighting, and eco-friendly materials like bamboo or recycled glass tiles to make your bathroom more sustainable and eco-friendly.
9. Spa-Inspired Extras
Gone are the days when bathrooms purely served their primary utilitarian purposes. In 2023, homeowners are turning their bathroom into their own personalized mini spa—an ideal relaxation space guaranteed to offer a quiet moment to unwind. Luxurious features like steam showers, stand-alone soaking tubs, and heated towel racks help to create a relaxing, rejuvenating atmosphere.
10. Vintage Charm
Vintage-inspired bathroom designs are a unique design trend that's growing in 2023. These designs incorporate romantic, old-world charm to any bathroom. You can incorporate vintage-inspired fixtures like clawfoot tubs, pedestal sinks, and ornate mirrors to create a nostalgic space. Vintage-inspired wallpaper or tile designs can also add some character to your bathroom.
Choose a Design-Build Expert For Your Illinois Bathroom Remodel
With a thoughtful budget and the right designs and features, your bathroom can become a multi-functional and rejuvenating space in your home. However, the remodeling process can be complex to manage on your own, and this big transformation will take some time. If you're ready to invest in your own in-home spa hideaway, choosing to work with an expert in the design-build process can help you save time and money and avoid unnecessary stress.

True Craft Remodelers is a full-service team in Central Illinois with a tried and true remodeling process—designed to offer a seamless experience for our clients through excellent communication and collaboration. Looking to revamp your living spaces with a kitchen remodel, bathroom remodel, or whole-home remodel? Contact us today and we'd love to help you get started.