3 Min Read
Top 8 Kitchen Remodeling Trends for Illinois in 2023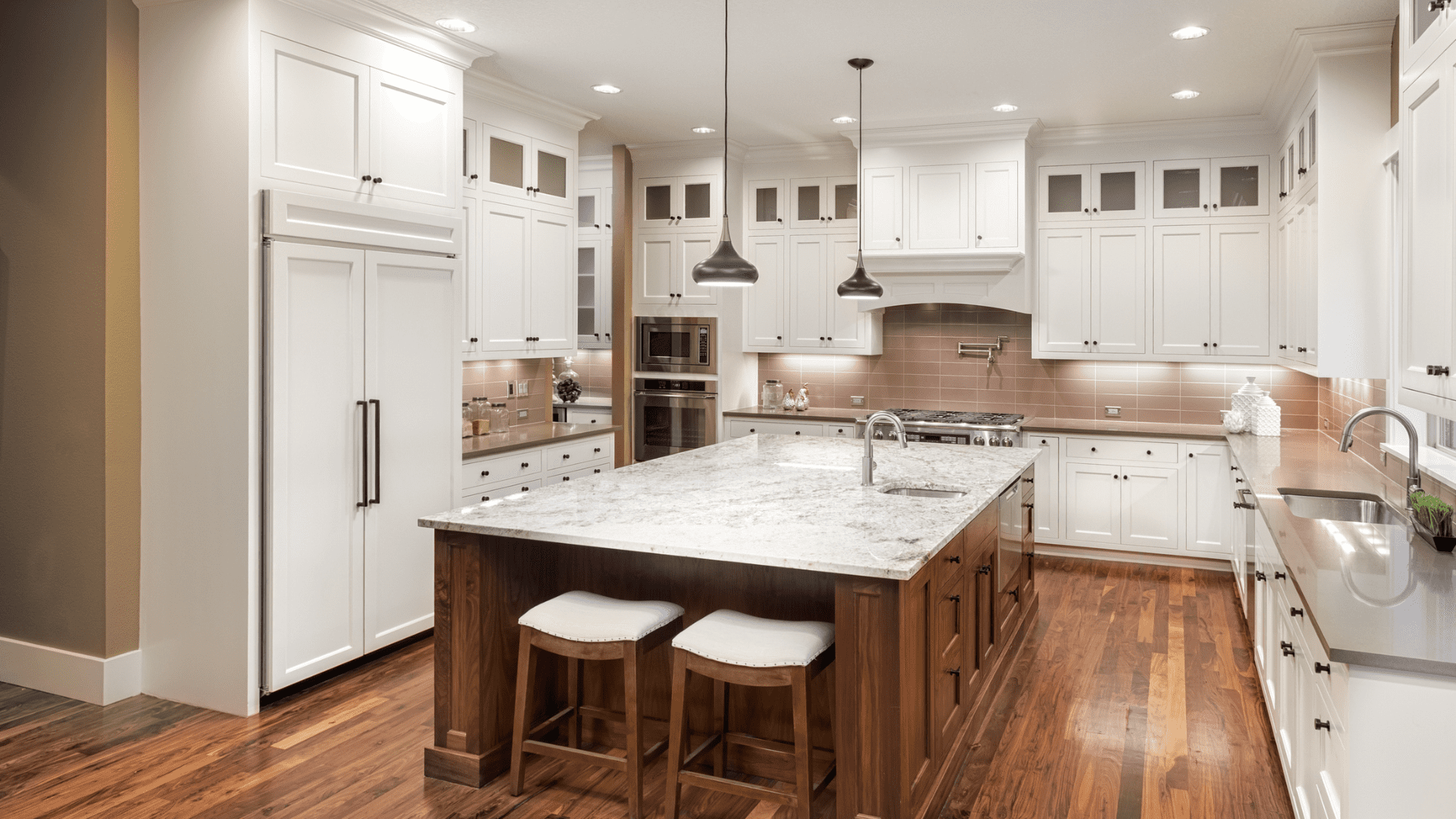 Level-up your kitchen remodel by including the best of the best 2023 design trends. They range from adding convenience to adding unforgettable style. The best part is that many of these aren't the typical flash-in-the-pan trends that will need to be updated anytime soon. So what are these kitchen trends you should include in your Central Illinois home remodel?
1. The Kitchen Plus
Kitchen remodels in 2023 are so much more than just the place you cook. Many homeowners like you are remodeling their kitchens to include an attached mudroom, laundry room, and a walk-in pantry or butler's pantry. These additional spaces help control the mess that usually ends up in the kitchen. It also offers a lot more storage for things that are convenient to be kept nearby but don't need to clutter your kitchen cabinets.
It's typical for homes to have an exterior door. Having a mudroom keeps the dirt, leashes, backpacks, shoes, and keys from cluttering your kitchen. A walk-in pantry or butler's pantry allows you to keep smaller appliances, a second sink, and serving ware in a separate, but nearby, space. Having a dinner party? Stow your dirty dishes and glassware out of sight in a butler's pantry.
2. Tons of Natural Light
Everyone loves natural light, and the kitchen is notorious for not allowing enough wallspace to get more of it into the space. There are a few tricks for remodeling your kitchen to include more sunlight. By adding a second or larger island, more of your kitchen storage can be transferred there, freeing up wall space that would normally be taken up by upper cabinets. A pantry or mudroom could also free up wall space by moving items that aren't used everyday to these other spaces.
Also, consider adding a skylight or two in your 2023 kitchen remodeling plans. Choose a model that blocks UV rays and a builder with experience installing them properly. Also, talk to your builder about the orientation of your home and whether a skylight will deliver too much direct light. For example, north-facing skylights are best.
3. Statement Lighting
The lighting you choose can deliver much of your kitchen's style. In 2023, homeowners and designers are adding a dose of style with statement lighting that stands out. Choose a fixture with a punch of color, an unexpected shape, or with mixed metals. In a larger kitchen or one with an island longer than five feet, a series of pendant lights will do the job better than a single fixture.
4. Flat Front Cabinets
In 2023, Shaker cabinets are taking a backseat to flat-front cabinets. Flat-front cabinets and drawers can work into many different style kitchens; like transitional, contemporary, mid century modern, and even rustic kitchens. Choose natural wood and show off a grain pattern, a fun trendy color, or classic white. The hardware will pull more of the design-weight here, so work with your designer to choose the right style for the aesthetic you'd like in your new kitchen.
5. Mixed Design Eras
In 2023, most design trends are all about bringing out your own personal tastes. Many people don't fit into one design style box, so why would your kitchen? Mix flat-front cabinets with a traditional island with wood-turned legs. Add fun contemporary statement lighting and upholstered barstools with an Art Deco-esque fabric pattern. The transitional style that was popular for the past 20 years ushered in comfortably mixing contemporary and traditional styles. In 2023, we're mixing in design elements from multiple eras to create really stylish and unique spaces.
6. Limited Upper Cabinets
We know what you're thinking: "But where will I put all of my stuff?" Remember the mudroom and butler's pantry? Building out these other spaces will offer alternative storage. You can also consider a larger island–or even two islands! Freeing up that upper wall space makes room for adding more natural light with additional windows. It'll also make the room feel larger.
Adding a few open shelves will also keep your sightlines open, making the room feel larger, and add just a bit more storage. But keep storage on your open shelves limited to matching sets of dishes or glassware to keep them from looking cluttered.
7. Slab Backsplashes
Slab backsplashes exploded onto the kitchen design scene a couple of years ago. In 2023, slab backsplashes continue to be incredibly popular. They're sleek, easier to keep clean, and offer a nice continuous background that won't take away from the rest of your kitchen's design details. Slab backsplashes were popularly made of marble, but you can use quartz, terrazzo, and high-grade laminate to get the same trendy effect. For a dramatic design, take your slab backsplash all the way to the ceiling, creating a striking accent wall.
8. Lower Cabinet Drawers
As custom storage trends were on the rise over the past few years, lower cabinet drawers became a stand-out winner in 2023. Why? They are just so incredibly convenient. Add dividers and you have a tidy and safe way to store just about everything, from plastic storage containers and pans to fine China and glassware. Deep lower cabinet drawers can also be used to store built-in appliances.
Larger lower cabinet drawers also helps you avoid the dead-space problem that cabinets often have. No more crouching down to floor level to find something in the recesses of a cabinet. Just pull out the drawer and everything is there in plain sight.
Ready to Bring Your Kitchen into 2023 with Style?
You've thumbed through magazines, perused online design boards, and read articles online. Now it's time to find a remodeler that can deliver a kitchen remodel with style and function, all within your budget.
True Craft Remodelers is a full-service design-build team that can take your project from concept through construction. How? Our in-house designer, contractors, project managers, and craftspeople all work together to deliver every stage of your remodel–seamlessly. Contact us to schedule a consultation and let's start planning!